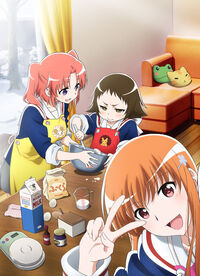 Mikakunin de Shinkokei (未確認で進行形, Mikakunin de Shinkokei? lit. "Unplanned and Under Construction") is a four-panel manga by Cherry Arai, telling a young girl who learns that she has a fiance, and, very soon after, ends up taking care of him, his little sister, and her own sister as they all live together. An anime adaptation aired January to March 2014.
Kobeni Yonomori is an ordinary girl just starting high school. Nothing unusual happens to her until her 16th birthday when she learns that she is betrothed to Hakuya Mitsumine, a boy the same age as her. Hakuya moves in from the countryside with his little sister and Kobeni's sister-in-law Mashiro Mitsumine and the two start living with her. Not to mention, Kobeni has a sister named Benio Yonomori who is two years older already living with her.
The story revolves around these four people as they try to figure out their roles in each other's lives!
Main article: List of Mikakunin de Shinkokei Episodes
The anime adaptation of Mikakunin de Shinkokei is produced by Dogakobo and Toho under Mikakunin de Shinkokei Production Committee aired from January until March 2014. The opening theme is "Confusing→Recipe" (とまどい→レシピ, Tomadoi→Reshipi?) and the ending is "Pure White World" (まっしろわーるど, "Pure White World"?), both produced by Junky and performed by Mikakuning!, consisting Kobeni, Benio, and Mashiro.
Two 11-minutes long OVAs also included on the first volume of the anime's Blu-ray releases and the fifth volume of the manga. The the fourth volume also contains the music video of "Sensation Overall" (全体的にセンセーション, "Sensation Overall"?).